10/11 2012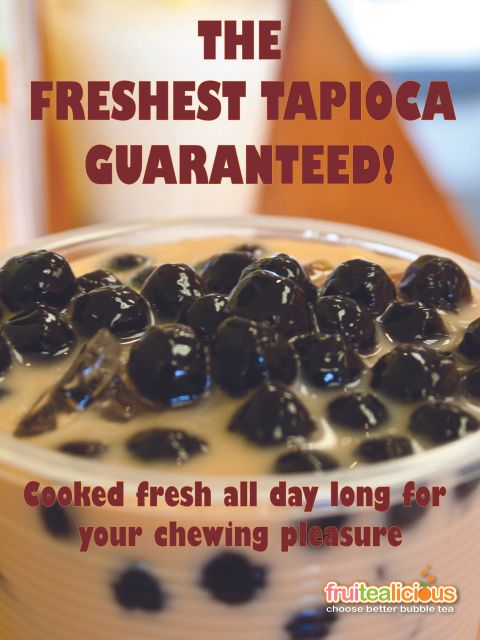 Cooking good fresh tapioca is tough…. cooking it every 2 hours… extremely hard!  There is a complicated process we have developed to make the perfect bubble.   However even a perfectly cooked tapioca over time turns soggy and gross.  We have all had that experience sometime in our bubble chewing lives…
But we at Fruitealicious make it a priority to make each and every batch with care and throw out any old batches.  We cook all day long in small batches.  Unlike other bubble tea locations, which maybe will cook 2-3 huge batches a day, we sometimes cook up to 8 batches in a single day!
It's important to cook tapioca so it's not too soft and not to hard.  We always look for a nice firmness in the middle so it cleaves well when biting.  Our premium tapioca also has a unique taste that an inferior tapioca ball can't compare to.
So come and taste the differnce next time you visit.
Not a tapioca fan?  Try our Flan Pudding and other Add-Ins.
Categories: General
Tag: Bubble Tea, tapioca balls