05/09 2009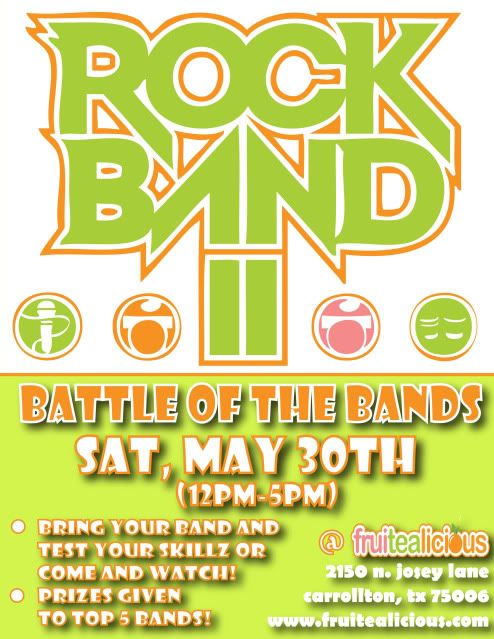 When: Saturday, May 30th 2008 (12PM-5PM)
Where: Fruitealicious; 2150 N. Josey Lane, Carrollton, TX 75006
Why: WIn Prizes!  Watch others Jam!  Have a great time with your friends!  A huge list of downloaded songs!
ROCK BAND 2 WILL BE AVAILABLE FOR PLAY AT THE STORE ALL WEEK LONG WITH A HUGE LIST OF DOWNLOADED MUSIC.
Official Rules:
We will be using Rockband 2 for the Xbox 360
Rockband Equipment will be provided.  Will be using standard xbox drums, guitars and mic.
Rockband 2 will be available to play all week long prior to the event for practice and fun.
Bands are entered on a first come first serve basis.  Bands can replay if there are no more new entries.  However new band entries will take precedent over bands wanting to replay.
Must have 4 band members (Singer, Guitar, Base, Drummer)
Each entry picks a 3 song set to play and tally up all 3 scores for their band's total.
Can choose any difficulty level.  The harder the difficulty, the higher the point total.
The top4 Bands will win prizes
First Place receives: A Trophy; $100 worth of gift cards; and Fruitealicious apparel
2nd, 3rd, and 4th places receive:  $20 worth of gift cards and a pat of the back!
There are too many songs to name but here is some of the most popular:
AC/DC "Let There Be Rock" 1970s

AFI "Girl's Gone Grey" 2000s

Alanis Morissette "You Oughta Know" 1990s

Alice in Chains "Man in the Box" 1990s

Allman Brothers "Ramblin' Man" 1970s

Avenged Sevenfold "Almost Easy" 2000s

Bad Company "Shooting Star" 1970s

Beastie Boys "So Whatcha Want" 1990s

Beck "E-Pro" 2000s

Bikini Kill "Rebel Girl" 1990s

Billy Idol "White Wedding Pt. I" 1980s

Blondie "One Way or Another" 1970s

Bob Dylan "Tangled Up in Blue" 1970s

Bon Jovi "Livin' on a Prayer" 1980s

Cheap Trick "Hello There" 1970s

Devo "Uncontrollable Urge" 1980s

Dinosaur Jr. "Feel the Pain" 1990s

Disturbed "Down with the Sickness" 2000s

Dream Theater "Panic Attack" 2000s

Duran Duran "Hungry Like the Wolf" 1980s

21 Elvis Costello "Pump It Up" 1970s

Fleetwood Mac "Go Your Own Way" 1970s

Foo Fighters "Everlong" 1990s

Guns N' Roses "Shackler's Revenge" 2000s

Interpol "PDA" 2000s

Jane's Addiction "Mountain Song" 1980s

Jethro Tull "Aqualung" 1970s

Jimmy Eat World "The Middle" 2000s

Joan Jett "Bad Reputation" 1980s

Journey "Anyway You Want It" 1970s

Judas Priest "Painkiller" 1990s

Kansas "Carry On Wayward Son" 1970s

L7 "Pretend We're Dead" 1990s

Lacuna Coil "Our Truth" 2000s

Linkin Park "One Step Closer" 2000s

Lit "My Own Worst Enemy" 1990s

Lush "De-Luxe" 1990s

Mastodon "Colony of Birchmen" 2000s

Megadeth "Peace Sells" 1980s

Metallica "Battery" 1980s

Mighty Mighty Bosstones "Where'd You Go" 1990s

Modest Mouse "Float On" 2000s

Motorhead "Ace of Spades" 1980s

Nirvana "Drain You" 1990s

Norman Greenbaum "Spirit in the Sky" 1960s

Panic at the Disco "Nine in the Afternoon" 2000s

Paramore "That's What You Get" 2000s

Pearl Jam "Alive" 1990s

Presidents of the USA "Lump" 1990s

Rage Against the Machine "Testify" 1990s

Ratt "Round & Round" 1980s

Red Hot Chili Peppers "Give it Away" 1990s

Rise Against "Give it All" 2000s

Rush "The Trees" 1970s

Silversun Pickups "Lazy Eye" 2000s

Smashing Pumpkins "Today" 1990s

Social Distortion "I Was Wrong" 1990s

Sonic Youth "Teenage Riot" 1980s

Soundgarden "Spoonman" 1990s

Squeeze "Cool for Cats" 1970s

Steely Dan "Bodhitsattva" 1970s

Steve Miller Band "Rock'n Me" 1970s

Survivor "Eye of the Tiger" 1980s

System of a Down "Chop Suey" 2000s

Talking Heads "Psycho Killer" 1970s

Tenacious D "Master Exploder" 2000s

Testament "Souls of Black" 1990s

The Donnas "New Kid in School" 2000s

The Go-Go's "We Got the Beat" 1980s

The Grateful Dead "Alabama Getaway" 1980s

The Guess Who "American Woman" 1970s

The Muffs "Kids in America" 1990s

The Offspring "Come Out & Play (Keep 'em Separated)" 1990s

The Replacements "Alex Chilton" 1980s

The Who "Pinball Wizard" 1960s

Abnormality "Visions" 2000s

Anarchy Club "Get Clean" 2000s

Bang Camaro "Night Lies" 2000s

Breaking Wheel "Shoulder to the Plow" 2000s

The Libyans "Neighborhood" 2000s

The Main Drag "A Jagged Gorgeous Winter" 2000s

Speck "Conventional Lover" 2000s

The Sterns "Supreme Girl" 2000s

That Handsome Devil "Rob the Prez-O-Dent" 2000s

Boston – More Than A Feeling

System Of A Down – BYOB

System Of A Down – Toxicity

Buckcherry – Rescue Me

Sixx A.M. – Life is Beautiful

Blink 182 – All The Small Thing

30 Seconds To Mars – The Kill

All That Remains – Chiron

Disturbed – Indestructible

Motley Crue – Kickstart My Heart

Rush – YYZ

Underoath – Desperate Times Desperate Measures

The Offspring – Self Esteem

Avenged Sevenfold – Critical Acclaim

Weezer – Buddy Holly

Dashboatd Confesional – Hands Down

Muse – Hysteria

KIllswitch Engage – My Curse

Stone Temple Pilots – Interstate Love Song

Papa Roach – Time Is Running Out
Categories: Video Games
Tag: Rockband Event